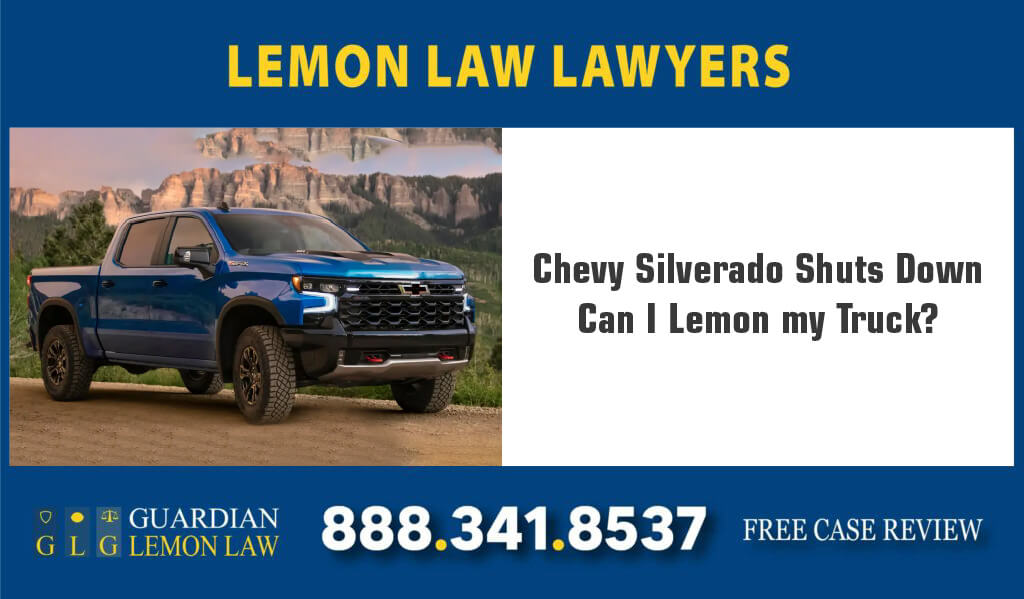 Have you purchased a Chevy Silverado that randomly shuts off for no apparent reason? This is not a rare phenomenon, as there are countless complaints on auto repair sites and user forums from Silverado pick-up truck owners that are experiencing this very problem. In fact, a simple online search of the words "Chevy Silverado shuts down while" will bring up pages and pages of complaints from frustrated owners. Quite a number of these posts mention the word "lemon," and yes, it's quite possible that these consumers were sold a vehicle with significant defects.
So, what is the remedy if your Chevy Silverado's engine keeps turning off? Fortunately, your purchase may be covered under the Song-Beverly Consumer Warranty Act. Often called the California lemon law, this legislation obligates manufacturers to honor the terms of their warranty. This means that a consumer has the right to a safe and defect-free automobile at the manufacturer's expense. Thus, if you've taken your car in for repairs multiple times and the problem isn't fixed, you may be entitled to compensation from the manufacturer.
Our lawyers can help you navigate the legal system and get the results you deserve if you've been sold a lemon. Contact Guardian Lemon Law for a free consultation on your rights and legal options.
Chevrolet Silverado Car Shut Off Complaints
As we've previously stated, Chevy Silverado shut off problems are very common, and they usually happen under the following conditions:
When the car is decelerating / driving at low speeds.
When making a right or left turn (usually as the car is slowing down to make a turn).
While accelerating into traffic
When the vehicle is placed into drive after being parked.
Many of these incidents happen without the Check Engine light turning on, which would at least have alerted the driver to pull over and check if anything is wrong with the car. The most dangerous sudden shut off incidents occur while the driver is at an intersection or on a busy highway. This can easily cause a car accident, such as a rear-end collision or T-bone accident. In spite of these issues going on for many years, Chevrolet has largely ignored their customers and fought to deny them the compensation they are owed. That's why it's essential to contact a lemon law lawyer right away, who can fight for the payment you are entitled to under California law.
What are my Rights under the California Lemon Law?
There are various forms of compensation you may be eligible to receive if you succeed in a lemon law case for a defective Chevy Silverado. A California lemon lawsuit can have one of the following outcomes:
A refund of what you paid for the car
A replacement vehicle
Cash and keep, meaning you receive compensation without having to return the car.
You can also ask to be reimbursed for incidental costs, like rental car services, towing fees, and other expenses you would not have had to pay if your car was in good working order. The manufacturer, however, has the right to deduct a "mileage offset," which is based on your approximate usage of the car before it started to have problems. We can explain the offset formula to you in detail and advise you of any additional forms of compensation you may be entitled to.
Can I Lemon a Leased Chevy Silverado?
Yes, leased vehicles are afforded the same protection as purchased vehicles, as long as they are backed by a manufacturer's warranty. All the same rules apply in terms of giving the manufacturer enough chances to resolve the problem that's causing your Chevy Silverado to shut down while driving. However, it's common to experience pushback from the dealership when you try to return your lease due to the repeated issues with your car. We can provide strong and effective representation that will get you the payment you deserve.
How Much Time do I Have to File a Lemon Claim?
California's lemon law requires all consumers to file a lemon law complaint within 4 years. When the 4-year window starts is the real question, and this is where people run into a problem. The dealership will generally tell you that the statute of limitations begins on the date you purchased or leased your truck. However, this is not true, as plenty of claimants have successfully argued that the SOL begins on the first day they notice the shut-off issues with their Silverado, or from the date of the last repair attempt. Essentially, there are many considerations that will determine the deadline to file a lemon lawsuit, so the best thing to do is contact an experienced lawyer and take immediate action on your case.
What is the Average Value of a Lemon Lawsuit?
Verdicts and settlements from lemon lawsuits in California vary greatly based on the car's age, mileage, make and model, the purchase price, and many other factors. Some claimants end up with anywhere from $15,000 to $30,000, while others are awarded $100,000 or more due.
In general, newer cars with higher price tags tend to bring in the highest settlements, but this is not an absolute rule. After all, your settlement is comprised of various incidental costs that are separate from the value of your car. You may also have the right to recover a civil penalty if the manufacturer or dealership took deliberate actions that are against the state's lemon law. What all this means is an issue we can discuss with you during a free consultation at our office, so please give us a call.
How Long Does It Take to Settle a Lemon Law Case?
How long it takes to settle a lemon claim depends on the legal actions we will need to take, as well as the manufacturer's willingness to negotiate a fair settlement. The majority of our cases take 3 to 6 months from start to finish, while some of them take just 30 days. However, other cases have very complicated circumstances that will take longer to work through, which means that it can take one or more years to resolve a lemon lawsuit in California.
Second Opinion from a California Lemon Law Attorney
It may seem like half the battle is over once you've hired an attorney to represent you. The problem is, not all attorneys have the experience and dedication that's needed to handle a lemon law claim. Alternatively, some lawyers view lemon cases as a numbers game and sign up as many clients as possible. If you're having trouble getting in touch with your lawyer or it seems like it's taking too long to settle your case, we would be happy to review your case during a second opinion consultation. Once you learn about your available legal options, you may decide to switch lawyers and continue your lawsuit with us. If not, there is absolutely no fee for the consultation, so please take the chance of calling us to schedule a free second opinion.
Zero Fee Guarantee
Understandably, many people are afraid to reach out to an attorney due to the associated costs, but we want you to know that there is no fee for hiring a lemon law lawyer in California. First, California law requires manufacturers to pay for the consumer's legal fees if they hire an attorney. Second, we offer a Zero Fee Guarantee, which is an added form of protection for your finances. Simply put, we don't make a penny unless we win your case.
We hope this has provided you with the needed reassurance to contact us and speak with one of our lemon law experts. Our attorneys have been recovering lemon payments for the past several decades and know what it takes to secure the highest possible settlement on behalf of our clients. To learn more about the lemon law claims process and how we can help you achieve justice, call Guardian Lemon Law Group and schedule a free case evaluation.