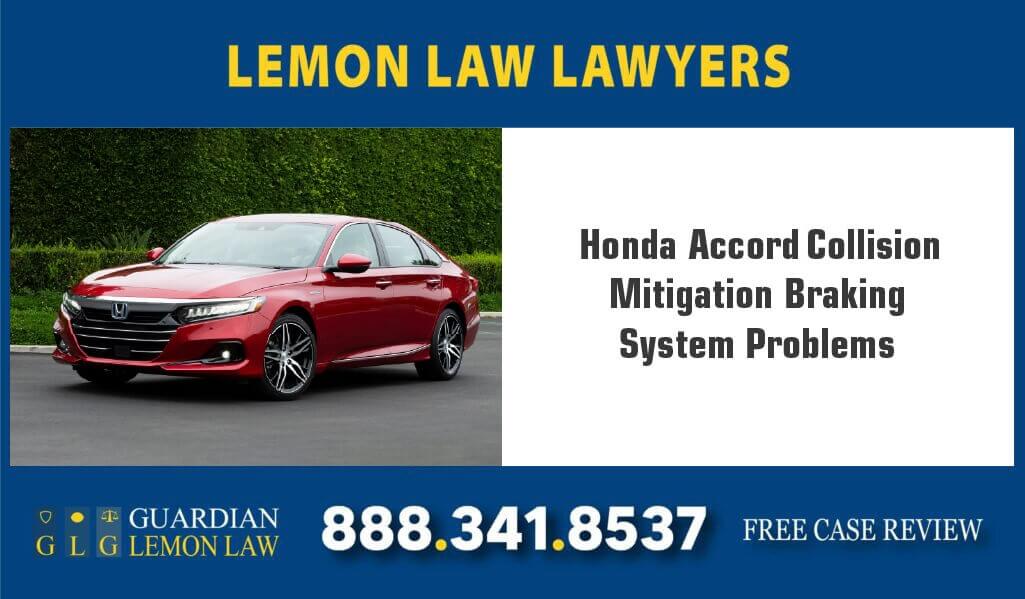 Honda has a reputation for solid and reliable cars, but the company has had its share of recalls and lawsuits throughout the years. One example is the persistent problem involving their Collision Mitigation Braking System (CMBS), which is found in several models, including the Honda Accord. This is a system that can prevent front end collisions by sensing objects that are in front of you. The system triggers the brakes as needed, though it also sends a signal to the driver that the brakes need to be applied.
The CMBS is a great piece of driver-assisted technology, but that's only if it works like it should. Unfortunately, many owners are discovering that their Collision Mitigation system has serious malfunctions that cause it to stop or slow down without warning. Even worse, the problem keeps happening even though they've taken the car back to the dealership numerous times.
If you are facing this problem, there's a good chance that your Honda Accord is a lemon. The good news is, you may be entitled to compensation from the manufacturer under the terms of the Song-Beverly Consumer Warranty Act. However, it can be challenging to go up against an auto manufacturer when you are unfamiliar with the laws and the process of filing a lemon law complaint in the state of California. Don't worry, since our lawyers are here to advise you of your rights and ensure that you are fully compensated by the manufacturer. To learn more about the ways we can assist you, contact the offices of Guardian Lemon Law Group.
Problems with the Honda Accord Forward Collision Avoidance System
Honda has been aware of problems with their Collision Mitigation Braking System since 2013, but failed to issue a recall until 2015. By then, they could no longer hide the constant complaints of vehicles stopping suddenly due to their inability to tell the difference between an obstacle and everyday road environments. These glitches would cause the brakes to slam on without warning, which put the drivers at an increased risk of being rear-ended.
Despite the recall, Honda Accord owners continue to report issues with the CMBS in their vehicle. Please contact us right away if you are noticing defects with your car's collision avoidance system. We can advise you on the steps you should take in the event it becomes necessary to sue the manufacturer.
Can I Lemon my Honda if there's an Issue with the Collision Mitigation System?
Yes, you may have grounds to return your vehicle and demand compensation from Honda if you are having problems with your car's Collision Mitigation Braking System. This includes sudden engagement of the automatic emergency braking system, jerking and shuddering of the vehicle, and sudden deceleration.
According to the lemon law in California, you can seek restitution through a lemon law claim. However, you cannot sue the manufacturer without giving them a "reasonable" number of attempts to fix the issues with your CMBS. As for what counts as a reasonable number, that depends on the type of issue you are having and its potential to cause an accident. For example, issues like glitches with the stereo system are unlikely to cause bodily harm, so we would say that you should give the manufacturer at least 4 chances. However, a defect with the forward collision avoidance system is a very serious problem, so Honda must fix the issue right away.
An attorney at our office can help you determine how many times you should take your car into for repairs. Afterwards, we can go over your rights and legal options and take immediate action on a lemon law case against Honda.
Deadline to Initiate a Lemon Law Claim in California
The law is very clear on the fact that you have 4 years to sue an auto manufacturer if your car is classified as a lemon. But when does the statute of limitations begin? This is a more complex issue that you will need to discuss with one of our lemon law experts. Please don't trust the manufacturer to be honest with you on this issue. If you were to ask them, they would tell you that the clock starts ticking from the day you purchased or leased the car. But there are plenty of cases where the SOL starts much later, so it's worth your while to confirm this information with an experienced attorney.
Settlement Values for Lemon Lawsuits in California
A lemon law settlement is comprised of various damages that you may be entitled to. First and foremost, you can demand a full refund of the purchase/ lease price or a new vehicle of similar value. In addition, you can be reimbursed for out of pocket costs that you would not have to deal with if your car was equipped with a properly functioning CMBS. This includes medical bills, lost wages, and other expenses if the defect with your Honda Accord Forward Collision Avoidance System caused you to have an accident.
When all is said and done, a lemon lawsuit may be worth anywhere from $25,000 to $300,000 or more. As this is an estimated range, your own case may be worth less or possibly more depending on your financial losses.
How Long it Takes to Settle a Lemon Claim against Honda Motor Company
We are of the same mind as you when it comes to recovering your payment as soon as possible. If the manufacturer is willing to make a fair offer, the settlement process for your case may take around 30 days. However, some resistance by Honda is to be expected, so a more realistic timeline is probably 3 to 6 months. In the worst case scenario, meaning your case will be tried in court, it's possible that obtaining your settlement award can take over one year.
Do You have an Active Lemon Law Case?
Our lawyers are not just here for you if you have yet to file a lemon complaint due to a faulty collision mitigation system. If you've filed a lawsuit already with another law firm, we will be happy to assist you with a free second opinion. Many claimants that have attorneys want to weigh their legal options with another lawyer to ensure that they are making the best possible choice. Others feel ignored by their attorney due to a lack of communication or other serious issues and want guidance on switching lawyers in the middle of a case. We are ready to speak with you about anything that's on your mind, so call us right away to schedule a free second opinion.
Lawyer that Can Help with a Honda Lemon Law Claim
It's terrifying to think that your car can come to a sudden stop when you least expect it, thereby increasing your chance of being in an accident. That's why it's essential to assert your rights under the California lemon law and fight for the compensation you are entitled to.
The attorneys of Guardian Lemon Law are more than ready for the challenge of representing you. With decades of experience in California lemon law claims, we know what it takes to build an iron-clad case and bring you the highest possible settlement. Best of all, our services are free to you since the manufacturer pays the bills if you hire an attorney. There is no cost to the client under the state's lemon law, and on top of that, we offer a Zero Fee Guarantee. That means you won't be charged for any legal fees if we fail to win your case.
Our law firm is ready to take your call 24 hours a day, 7 days a week. For a free case review with an experienced lemon law lawyer, contact us without delay.