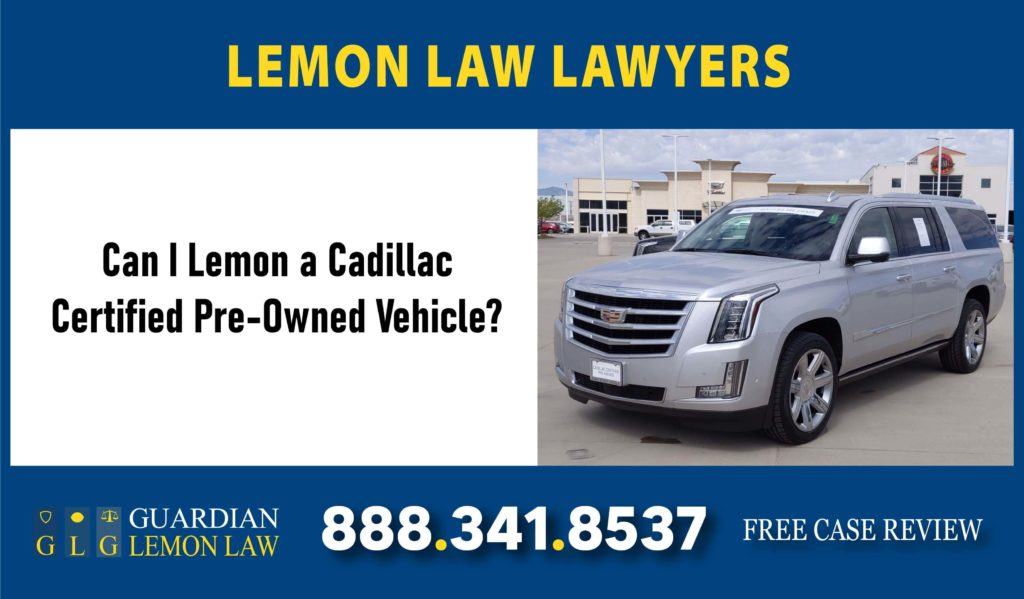 Have you found yourself with a certified pre-owned Cadillac that keeps breaking down from the same defect? Unfortunately, you may have purchased a lemon, which means your car has a significant problem that cannot be reasonably repaired by the manufacturer. California's lemon law protects consumers that find themselves in this position, but it's not always easy to get the justice you deserve.
If you've been asking yourself, "Can I lemon a Cadillac certified pre-owned vehicle," look no further than Guardian Lemon Law. Our lawyers have what it takes to recover compensation for the losses you have suffered through no fault of your own. If you're interested in learning about your legal options, contact us right away to schedule a free consultation.
Can I File a Lemon Claim for my Cadillac even if it was CPO?
Yes, the state's lemon law applies to used cars, including certified pre-owned vehicles, as long as you:
Bought the car from a dealership or manufacturer.
Have a manufacturer-backed warranty for the car, which covers the defect you are claiming.
Have a defect that's serious enough to cause significant safety issues or devaluation of the car's value / usability.
Gave the manufacturer enough opportunities to fix the problem.
Certainly, a manufacturer must be given the chance to repair any issues that are covered under warranty, but how many attempts do they have? In California, a car becomes a lemon if the defect in question cannot be repaired after 4 or more attempts. If the defect is extremely serious – brake failure, for example – the manufacturer only has two chances to fix the issue. But what if your car has been in the shop for days at a time, perhaps a week or more? In that case, the law allows you to lemon your car if it's been in for repairs for a total or 30 days or more.
Is my Cadillac Model covered under the Lemon Law?
All models of certified pre-owned Cadillacs that came with a warranty are covered under California's lemon law. If you are a business owner, commercial vehicles under 10,000 pounds are covered as well, but only if you have 5 or less vehicles registered under the business name. For your convenience, below is a list of all Cadillac models that are eligible for a California lemon claim:
Cadillac Escalade
Cadillac XT4
Cadillac XT5
Cadillac XT6
Cadillac Lyriq
Cadillac CT4
Cadillac CT5
Cadillac ATS
Cadillac ATS-V
Cadillac CT6
Cadillac CTS
Cadillac CTS-V
Cadillac Catera
Cadillac DTS
Cadillac DeVille
Cadillac ELR
Cadillac Eldorado
Cadillac Escalade EXT
Cadillac SRX
Cadillac STS
Cadillac STS-V
Cadillac Seville
Cadillac XLR
Cadillac XLR-V
Cadillac XTS
My Certified Pre-Owned Cadillac is a Lemon. What are my Rights?
If it's clear that your CPO Cadillac is a lemon, the law entitles you to a new, replacement vehicle or a full refund of your purchase or lease price. You can also claim collateral costs (sales tax, finance charges, dealer add-ons, etc.) and incidental expenses due to the issues with your car. For example, the money you spent on rental cars and towing services would fall into this category.
As for which option you should choose, it's really up to you and your personal circumstances. If you are very loyal to the Cadillac brand and this is your first bad experience with them, you may want to give them another shot and ask for a replacement car. However, many consumers lose faith in a car manufacturer due to the ordeal of dealing with a lemon and feel that it's best to move on to another brand.
One thing to keep in mind is the mileage offset, which is based on your usage of the car before you first noticed the defect. Understandably, a car's value depreciates from a consumer's usage, and the manufacturer has the right to deduct the amount of depreciation from your refund. With a new car, there is a simple formula that's provided by the state's lemon law. But the formula doesn't apply to used cars, and this is a loophole that manufacturers will use to their advantage. Representation from a skilled lemon lawyer is essential to protecting your interests.
Average Case Value of a CPO Cadillac Lemon Claim
It would be a disservice to provide an average value in these cases, considering the number of factors that are involved. Obviously, the price of your vehicle is a major factor, though as we've mentioned, there are many other expenses that you may be eligible to receive. If the manufacturer willfully tries to avoid paying on your claim (stall tactics, for example), you may be awarded a civil penalty for double the amount of our refund. This means if you are owed $50,000 on a claim, you can receive an extra $100,000 and end up with a total of $150,000.
Your lemon case may also involve a personal injury claim if you suffered bodily injuries from an accident due to your Cadillac's defect. The cost of medical expenses, lost income, and emotional trauma from your accident – these damages can add another $100,000 or more to your lemon claim depending on the severity of your injuries. As you can see, figuring out the value of a lemon case is a complex matter, so please take some time to speak with one of our attorneys.
How long does it take to get Paid on these Cases?
If your lemon claim is fairly straightforward with minimal complications, we can probably settle your case in 3 to 6 months, maybe even 30 days based on the manufacturer's cooperation. However, case timelines tend to increase along with case values, which is not surprising as car manufacturers want to maintain their profit margin. This is common in lemon lawsuits involving injuries, which can have a significant effect on the plaintiff's compensation award. These, and other cases with complex issues, can take over a year to resolve.
Statute of Limitations on Lemon Claims
You must file a lemon claim against Cadillac within 4 years from the time you learned about your car's defect. This is a bit vague, as it can refer to the time your car first broke down, or the first failed repair attempt on your car. We can help you figure this out, so call us right away if you're uncertain about the deadline to take legal action against Cadillac. No matter how much you have left, it's essential to take immediate action on a claim so that you can recoup your expenses in a timely manner. Call us today and get started on a lemon case with one of our attorneys.
Advice from a Lawyer Experienced in CA Lemon Law Claims
Do you have a lemon claim that's taking too long to settle? Are you worried or confused about issues in your case, or the level of service you're getting from your attorney? If so, you may benefit from a second opinion with one of our legal experts. A second opinion can reassure you that things are on the right track, or it can alert you to red flags concerning your lawyer's abilities. Changing your lawyer is an option if there are signs of incompetence or apathy by your attorney, which can end up hurting your case. The choice to switch lawyers is completely up to you, and regardless of your decision, you will never be charged for a second opinion at our law firm.
To schedule a private meeting with a California lemon law attorney, contact us at your earliest convenience.
Contact us for a Free Case Evaluation
While protections are available for consumers under California's lemon law, obtaining compensation through a claim can be quite challenging. Manufacturers have tricks to make you give up on a claim or settle for much less than you deserve. That's where Guardian Lemon Law can help, with our many years of experience in the recovery of lemon law settlements.
We operate under a Zero fee policy, which means you pay nothing for representation from one of our attorneys. Our fees are paid by Cadillac, and that's only if we win your case. If we fail to recover your payment, we eat the costs and you pay us absolutely nothing. To get started on a lemon claim or continue an existing lawsuit, call us for a free case evaluation.