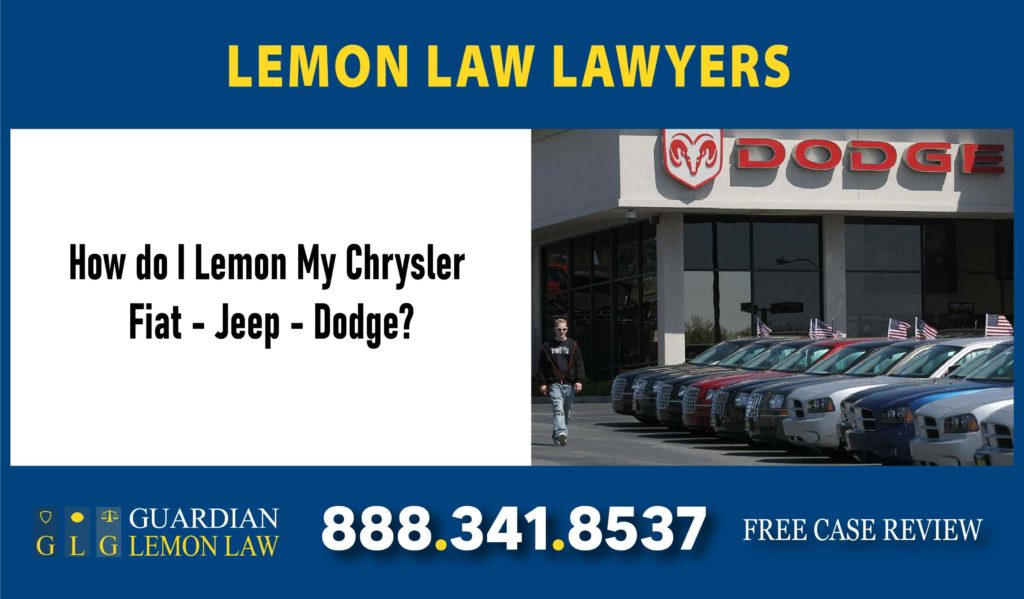 For most of us, a car is a basic necessity that helps us get to work, travel to far away locations, and do countless errands in order to take care of our loved ones. However, it's also one of the most expensive investments you will ever make, which is why it's so frustrating when your car keeps breaking down from the same defect. Aside from the cost and inconvenience, an unresolved defect can lead to an accident, thereby putting you and others in danger.
Fortunately, California's lemon law, also known as the Song-Beverly Consumer Act, provides legal protections if your vehicle was purchased from a dealership and came with a manufacturer-backed warranty. If your vehicle is compromised in its usage, safety, or value due to a defect that the manufacturer is unable to fix, you are entitled to monetary damages under the state's lemon law. However, claiming the payment you are due is easier said than done, as auto manufacturers are very good at finding ways to deny your claim. At the very least, they will do their best to pressure you into a low settlement.
Guardian Lemon Law is ready to fight for you and the compensation you deserve. For a free, no-obligation case review on your rights and legal options, contact us as soon as possible.
How to Lemon a Chrysler – Fiat – Jeep – Dodge Vehicle
Below is an outline of the steps you will need to take in order to seek protection under California's lemon law. Please be aware that this information is for general purposes only. If you have questions that are specific to your own case, contact us for a free case evaluation.
Bring your car to an authorized repair center.
The terms of your warranty will require you to take your car back to the original dealership or a repair center that's been authorized by the manufacturer. Make sure to follow these guidelines and avoid letting anyone else, including yourself, make any repairs on the car. Doing so may invalidate your right to compensation, even if it's clear that your car is a lemon.
Give the manufacturer enough chances to fix the problem.
Before you can proceed with a lemon claim, you must allow the manufacturer a "reasonable" number of attempts to fix your car's defect. Generally, a car is classified as a lemon if the defect is unresolved after 4 repair attempts. However, serious safety issues, like brake failure or unstable windshield / windows, must be fixed in no more than 2 attempts. Alternatively, if your car has spent more than 30 days in the repair center due to the same defect, you can move forward with a lemon case.
As with any legal action, evidence is critical to ensuring the highest possible settlement. Make sure to keep any paperwork and documentation between you and the dealership / manufacturer. These include the purchase / lease agreement, repair orders, invoices, and receipts. Screenshots and printouts of emails, texts, and DMs should be saved as well if they are related to your car's reoccurring defect. You must also keep records for out of pocket costs, like receipts and confirmations for rideshare services, rental cars, and towing fees.
Hire an experienced lemon law attorney.
So, you're ready to file a lemon claim for a defective Chrysler – Fiat – Jeep – Dodge vehicle. But the legal process can be confusing for these cases, which you are probably aware of if you've researched this topic on your own. Should you send a demand letter to the manufacturer or should you ask for arbitration? Is it better to take my chances with a lawsuit? Our experts are here to advise you on these options and help you decide on the best course of action.
What am I Entitled to from a Lemon Law Claim?
If you succeed in a lemon lawsuit against the manufacturer, there are various damages you may be eligible to receive. Your main form of compensation is 1) a refund of the contract price for the vehicle or 2) a new replacement vehicle of equivalent value. Your refund includes the sales tax, license / registration fees, and other collateral charges. If, on the other hand, you choose a replacement car, it doesn't have to be the same model as your original purchase. Rather, it must be of similar quality and value, which may have you asking, "What does that mean?" We can explain these terms in detail and help you choose the right form of reimbursement during a free consultation at our office.
Keep in mind that the manufacturer must reimburse you for any expenses that you incurred due to their failure to resolve your car's defect. Thus, you can include incidental costs like towing and rental cars fees in your lemon claim. You can also demand compensation if the on-going issue with your vehicle caused you to be injured from an accident. As you can see, these cases can be quite complicated, but rest assured that our attorneys are here for you every step of the way. We will fight tirelessly for your rights and bring you maximum payment for the losses you've suffered.
How long do I have to File a Lemon Lawsuit?
Lemon cases in California are subject to a 4-year statute of limitations, which begins on the date that you should reasonably have known about the defect with your car. So, do you have four years to file a lawsuit from the first time you took my car in for repairs? Or, does your statute of limitations start from when you were 100% certain that your car was a lemon? Don't worry – we can help you figure this out and make sure that your lemon claim is filed in a timely manner. Please don't wait to contact us, as the courts are very strict when it comes to statute of limitations. If your lawsuit is not filed on time, it's more than likely that you will lose the right to sue the manufacturer.
Average Value for a Chrysler – Fiat – Jeep – Dodge Lemon Case
In reality, there's no such thing as an average value for a California lemon claim, as each client's losses are different. Here at Guardian, most of our cases have fallen within the $25,000 to $150,000 range, though we've certainly had our share of higher settlements. What are the elements that are involved in determining your settlement value? The price at which you bought or leased your car is a major factor, as your main form of payment is a full refund or a replacement vehicle. But you are also entitled to receive out of pocket costs and personal injury compensation if you were injured in an accident due to the issues with your car. These include medical expenses, lost wages, and pain and suffering, which can be a significant addition to your settlement. Since there are so many elements that must be examined, please contact our attorneys for an approximate value of your Chrysler – Fiat – Jeep – Dodge lemon claim.
Length of Time to Achieve a Settlement
When we take on a case, we set out with the intention to negotiate a settlement within 6 to 8 months. The process can be much faster in some cases – just 30 days if the claim is fairly straightforward. But many claims are quite complex, and it's possible that achieving a settlement can take around 12 to 18 months. If the manufacturer is acting in bad faith or you've sustained serious injuries from an accident, we may have to file a lawsuit in order to recover a fair amount of damages. At that point, it will likely take over a year to resolve your claim, depending on the legal actions that are needed.
Second Opinion on Active Lemon Claims
As someone with a pending lemon case, you may have questions about your legal rights that are not being addressed by your lawyer. You may also have problems with the lack of time and attention from your attorney, and want to know if switching your lawyer is the right strategy. This is where we can be of help, with a free second opinion consultation. That's right; this is a completely free meeting with a lemon attorney at our office. After reviewing your case, they will provide an honest assessment of your legal options. However, you are no obligation to act on any of our suggestions, nor is there any pressure to continue your lawsuit with us. Call us today to schedule a free second opinion.
The Zero Fee Guarantee
The state's lemon law is a powerful form of protection for consumers that end up with a defective product. However, succeeding in a claim against the manufacturer is an uphill battle for most claimants. Legal representation from an experienced lemon law attorney is the best way to proceed in these cases, but you may be worried about the associated costs.
We operate under a Zero fee guarantee, as we believe that a victim should not be burdened with the cost of hiring an attorney. The manufacturer is the one that's responsible for paying our expenses, and that only happens if we win your case. If we lose, we eat the costs and you walk away without losing a single penny. For more information on this policy, along with any other concerns you have about your case, please reach out to us at your earliest convenience.