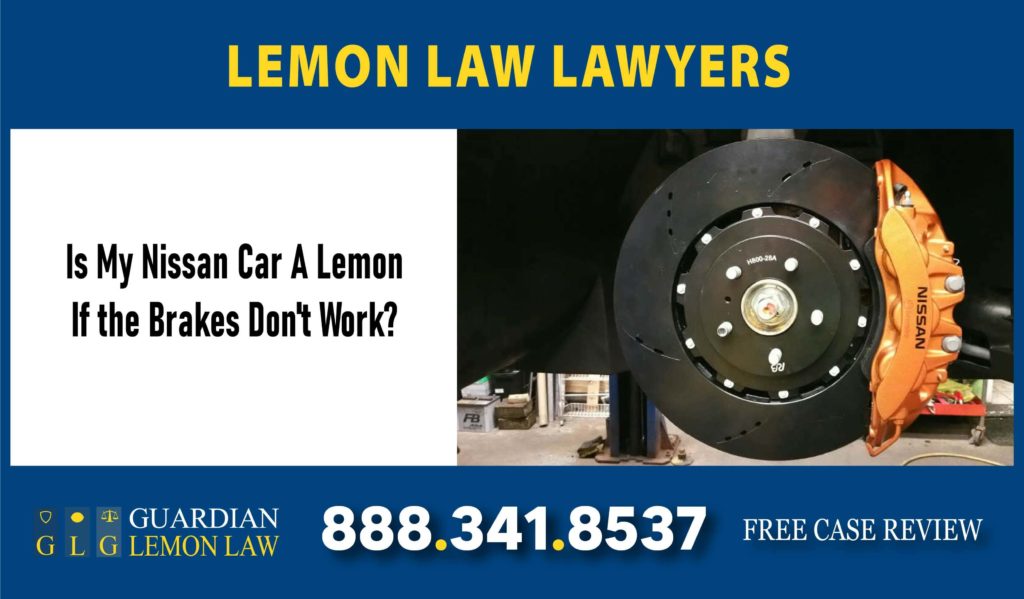 If your Nissan car has brakes that do not work properly, that car will be considered a lemon vehicle. The lemon vehicles in California will be able to be reviewed under the California Lemon Laws. If your car has brakes that do not work properly and this is a manufacturer's defect, you need to give us a call at Guardian Lemon Law Group at 888.341.8537. You may be able to bring an action at law against the Nissan car manufacturer. This is because having properly working brakes will help you drive your vehicle safety, and defective brakes are sure to cause you an accident sooner than later.
If you have improperly working brakes on a car, you run the risk of skidding all over the highway and not being able to drive and stop your vehicle properly when needed. Brakes that are malfunctioning will help exacerbate your chances to get into a serious car accident in California. Any time you are in a serious car accident, you can have life-changing or life-threatening injuries, or even death, as it relates to your being able to recover from this type of serious injury.
About Us
Our law firm is ready to go against the Nissan and other big auto manufacturers, to get you the recovery compensation you deserve in a lemon law case. We are multilingual, and we speak: English, Spanish, Portuguese, Tagalog, Armenian, Farsi, Arabic, Hebrew, Russian, French, German, and Korean, to help you win your lemon car claim. All that you need to do is to call us at the Guardian Lemon Law Group at 888.341.8537 today.
Nissan Manufacturer Frightens Consumers Who Buy New and Leased Vehicles with Many Concerns Over Lemon Cars
If you bought a lemon car, it is going to be a surprise to you most of the time. No one goes into the car dealership to buy a new car and says, "Hey, yeah, just sell me your lemon car today, I don't want a perfect car right now." We are not making fun of having a lemon vehicle. On the contrary, we are calling attention to the ridiculousness of a car dealership thinking that they have no responsibility for fixing and repairing your lemon car if that is what you got in the deal. Lemon cars are just like ticking time bombs sitting on the car dealership lot.
Sometimes the car dealership may have been told by the auto manufacturer that a vehicle may or does have a manufacturer's defect. This may be the case when there are recalls on a vehicle. In that situation, the car dealership is required to pull those new cars, take them into the shop, and repair the defective parts before the car is sold. If the car is already sold, then you will be contacted as a new or new leased car owner to come back to the car dealership to get the repairs for free on your vehicle.
"Help, Why Does the Private Mechanic Want to Charge Me for Fixing My Nissan Lemon Car?"
The repairs to fix the manufacturer's defects issues will be and should be free for you. That is the reason you need to take your car back to an authorized car dealership. If you do have your recall part fixed by a mechanic, you will have to pay that person for the repairs. It is only fair to the mechanic who does the repair that he or she gets paid for those services. But if you take your car back to a car dealership, which is the recommended and preferred option, then the car dealership has to "eat" or pay for the time that the shop has to take to fix the manufacturer's defects on your lemon car.
Common Defects of 2022 Nissan Titan, Titan XD, Frontier and Rogue Lemon Cars
Nissan has had issues with the infotainment system on the 2022 Titan, Titan XC, Frontier and Rogue vehicles, where the backup camera will reboot itself in a loop and not show the rearview display behind the vehicle. This defect will not show the driver what is behind the vehicle, which can cause a serious accident with a:
Tree
Jogging pedestrian
Playing child
Walking person
Another car
Animal or pet
Other hazards in the roadways
When the driver's visibility is reduced and the backup camera does not work, then the driver is at risk of hitting an obstacle or person when using the car in reverse mode. If you have a defect on your Nissan vehicle, it may be a lemon car. If that is the case, just call us at Guardian Lemon Law Group at 888.341.8537 right now, to discuss litigation to get the full recovery compensation package possible, regarding your lemon car claim.
Recent Victories for General Motors Lemon Car Owners with Defective Brakes
Consumers won a $25 million settlement for Nissan SUVs with brake defects in 2017. In the last few years, GM is also being sued for faulty brakes on their SUVs and cars. There have been recent lawsuits initiated for GM lemon car owners. General Motors has had to defend against lawsuits for its defective brakes in:
Chevrolet Silverado
Chevrolet Suburban
Chevrolet Tahoe
GMC Yukon XL
GM Sierra
The brakes on many GM vehicles have stopped working while the cars are in motion. The brakes on defective GM cars were making it hard to use the brake pedal, having the drivers experience weird sounds when the brakes were depressed, and leaking fluid from the brakes. Many people have joined a class action against General Motors in regards to the issues with the brakes on GM cars and SUVs.
Zero Fee Guarantee
Someone once said that there is "no time like the present," and this applies to getting a zero-fee guarantee with Guardian Lemon Law Group. All that is necessary to be eligible for the free guarantee is to call us now at Guardian Lemon Law Group at 888.341.8537.
Contact Us / Free Case Evaluation
Our legal team is standing by to help you with a lawsuit for your Nissan with defective brakes. You can get immediate access to a knowledgeable lawyer with experience in lemon Nissan cars with defective brakes, by calling us today. We are here to help you and give you a free case evaluation at Guardian Lemon Law Group at 888.341.8537.