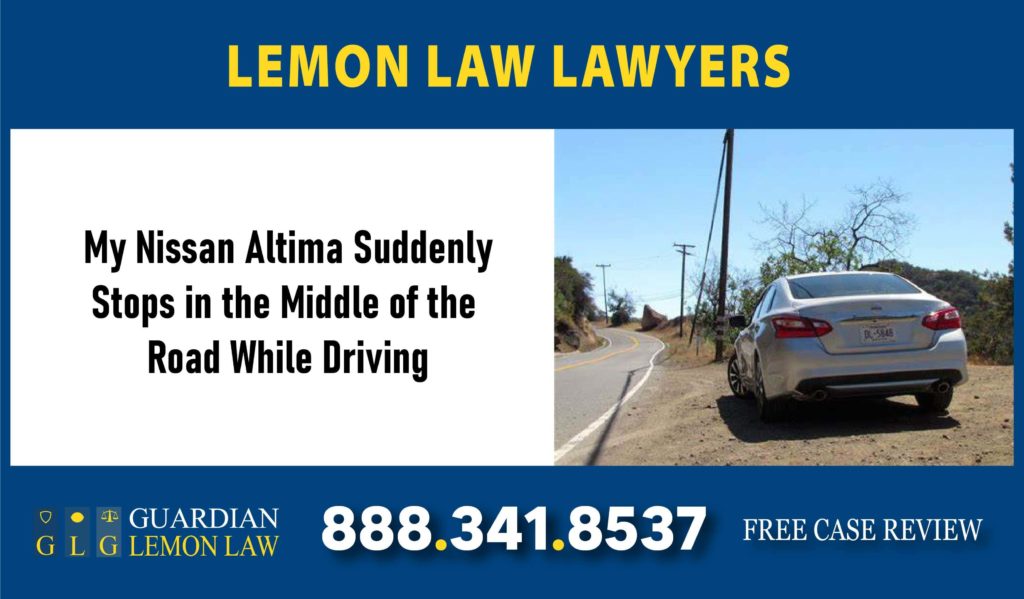 Can I Return the Lease – Return the Car – Give the Car Back If It Suddenly Stops Mid-Road?
If your car is suddenly stopping in the middle of the road while you are driving it, there can be serious repercussions for the car acting this way. If a car is stopping mid-road, then something is definitely wrong with one of the engine-based components of the vehicle.
There are many reasons why a car will stop suddenly in the middle of the road. These issues can be related to the vehicle:
Transmission
Torque converter
Engine engagement
Engine oil pressure sensor
Sensor assembly
Fuel system sensor
Fuel system injector assembly
Failed alternator
Broken timing belt
Broken timing chain
Faulty valves and pistons
Broken or cracked camshaft
Broken crankshaft
Malfunctioning spark plugs
Fuel pump leaks
Faulty ignition switch
If you are noticing issues with your Nissan Altima suddenly stopping in the middle of the road, you may have a lemon car. You can call us at the Guardian Lemon Law Group at 888.341.8537 to review your claim for free.
They Are Not Letting Me Return the Car – Can I Get a Lawyer?
Yes, you can get a lawyer, if the car dealership will not let you return a lemon car. If you have called the dealership where you bought your car, and told them of the car shutting off in the middle of the road, they should be sympathetic to these claims and help you. If you have been told by the car dealership that you are unable to return your car that shuts off while driving it, then you need to give our office a call immediately. We can help you, if the car dealership is not listening to you, that your car is turning off in the middle of the road, while you are driving it.
About Us
Our legal team is ready to discuss your case of a Nissan Altima with safety defects, as it stops suddenly in the middle of the road. We are a firm with a knowledgeable and well-versed lemon law attorney team. We can get you the money you deserve, when you bring an action against the big manufacturers who produce lemon cars for the unsuspecting public. Just call us now at the Guardian Lemon Law Group at 888.341.8537.
Guardian Lemon Law Group Knows How to Talk to Every Car Manufacturer During Negotiated Settlements
We pride ourselves on being a forward-thinking law firm, ready to get you the recovery compensation that you deserve on your Nissan Altima lemon law case. Our attorneys are multilingual and can converse about your claim with you in many different languages. Just calling us right now will ease your mind, and start the process to recovery for your lemon vehicle. We are at Guardian Lemon Law Group at 888.341.8537, whenever you want to give us a call to discuss your case today.
Transmission Issues Is One of the Common Defects on a Nissan Altima
If your Nissan Altima stops in the road, it may have a lemon related transmission. That means that it has a transmission defect in the vehicle. Any time that a car has a transmission problem, it is going to be a major issue for the car or truck.
In general, the transmission of the lemon car is meant to power the vehicle to move on the roads. A transmission is a mechanical component to the car, that monitors the way the power from the engine is sent to the driveshaft. The driveshaft makes the car go forwards and backwards.
Common Transmission Problems in a Nissan Altima
The common transmission problems in a Nissan Altima can include many different issues. You can even experience more than one defect and problem at a time, in the Nissan Altima car. For example, the following issues related to a defective transmission may include problems such as:
Lack of pick up and go when using the accelerator
Humming or noises from the transmission component
Leaking of fluids from the transmission
Engine and transmission shaking violently when accelerating
Grinding noises coming from the engine when it is running
Smells of rubber or fuels coming from under the hood
Check engine light being lit up inside the cabin of the vehicle
Transmission making weird noises
Trouble codes on the dashboard
You should remember that it is quite possible that a defective Nissan Altima can have more than one issue or problem going on at once. For example, if the car is leaking fluids, this may affect several internal systems because of just one defect related to retaining of fluids for the transmission. Similarly, if the check engine light comes on, there can be more than one issue going on at once in that situation. The transmission defects can affect other systems in the vehicle, causing them to not work properly or appropriately when being driven on the open roads.
Recent Victories for Consumers Will Put Big Manufacturers on Notice to Stop Producing Lemon Cars
It is about time, and the big car manufacturers are being brought to the front of the line at last. They now know that they can no long churn out lemon cars, and not reimburse the public and consumers who buy their dud vehicles. If you have a question regarding your Nissan Altima that stops in the road, you may call us and we will respond to you right away. Just pick up your smartphone, and call our experienced attorneys at Guardian Lemon Law Group at 888.341.8537 today.
Zero Fee Guarantee
At the Guardian Lemon Law Group, we are able to talk to you today about your lemon law case. If you have a Nissan Altima that is slowing to a stop or abruptly stopping in the middle of the roads, you need to make a claim if it involves a defective part or component of the vehicle. Just call us and you can take advantage of our zero-fee guarantee right now. We are available to discuss your claim at the Guardian Lemon Law Group at 888.341.8537.
Contact Us / Free Case Evaluation
If you have questions regarding the status of your lemon Nissan Altima vehicle that stops in the road, you can call us at the Guardian Lemon Law Group at 888.341.8537. We can talk to you about your claim for a lemon car, and give you a free case evaluation at that time. You will want to talk to our legal team, to speak to attorneys with experience dealing with big auto manufacturers who have obvious defects on their cars. You can call us today, we are here to help you, and it just takes a minute to pick up the phone and make the call right now to Guardian Lemon Law Group at 888.341.8537.