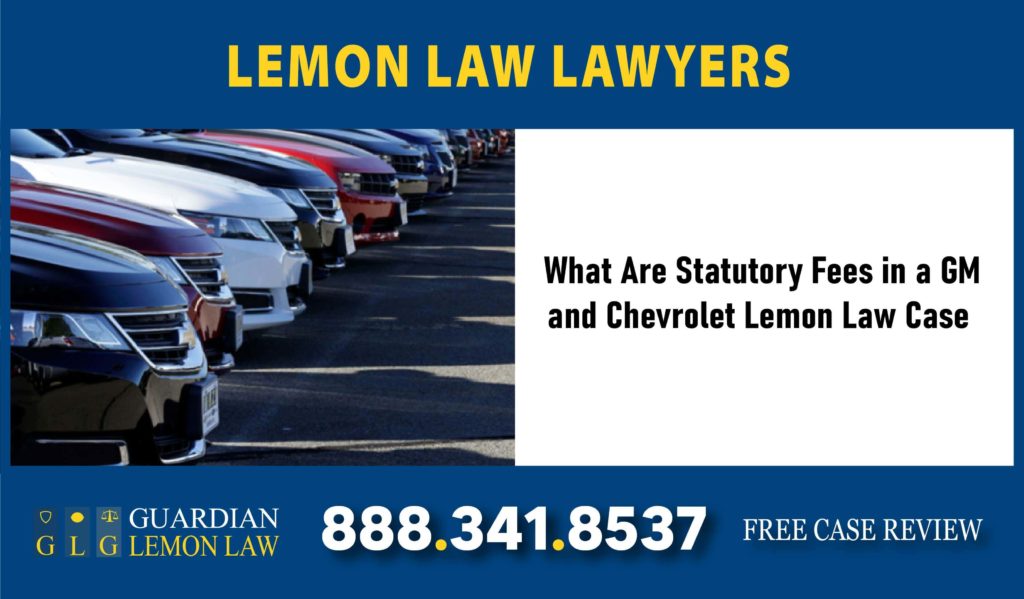 The statutory fees in your GM and Chevrolet lemon car claim are going to be the attorney fees that you will pay out of the final settlement. You never have to pay us any money up front, and you do not need to give to us a deposit before we will start to work with you. You can call us today at the Guardian Lemon Law Group at 888.341.8537, to get the process started to a full recovery compensation package for your lemon GM and Chevrolet new vehicles.
About Us
Our legal team at the Guardian Lemon Law Group is prepared to help you, when you have a lemon car. If your new car has manufacturer's defects and is unsafe to drive on the roads, you can call us today to discuss the matter in confidence. We are a multilingual firm, and are fluent in several languages, including: English, Spanish, Portuguese, Tagalog, Armenian, Farsi, Arabic, Hebrew, Russian, French, German, and Korean. Let us direct you in the most advantageous next steps, to get the recovery compensation package that you deserve, when your new car is a lemon vehicle.
What If the Car Dealership Is Unprepared to Handle Lemon Car Issues from the Consumers?
If a car dealership is completely unprepared to handle lemon car issues, that is no concern of the consumer. In fact, the car dealership has an agreement in writing and a partnership with the auto manufacturer, to deliver, distribute and sell the car maker's vehicles to the public. In the case that the car dealership has no idea what to do with a lemon car, well, that car dealership needs to learn how to handle this situation in a hurry! The consumer never needs to feel sorry for a car dealership who is overwhelmed with many lemon cars, that the dealership needs to now fix for free in its repair shop onsite.
The car dealership makes plenty of money selling cars for a living. If some of the cars that are sold turn out to be lemons, then the car dealership needs to get on that situation and work it out with the auto manufacturer how they will fairly reimburse the consumers. The quality of the vehicles is in the hands of the auto manufacturer and the car dealership. This factor is never in the hands of the consumer. Therefore, the car dealership needs to find out how to reimburse and repair lemon cars as soon as possible, to keep a sense of goodwill in the community. If the car dealership fails in this respect, how can they expect people to come into their car dealership in the future, and continue to buy new cars from that car dealer?
Common Defects That Can Be Found in a Lemon Car Claim
A lemon car can have many different types of defects. Often these vehicles have more than one related defect at a time plaguing the car, including issues with:
Instrument panel clusters
Oxygen sensors
Has no power assist
Won't turn unless the car is moving
Turns too hard
Hurts your shoulders to turn the wheel
Body sealing products
Electronic powered steering assemblies
Shock absorbers
Spark plugs
Oxygen sensors
Air fuel ration sensors
Headlights
Automotive wire harness system
Body sealing products
If you have these or other manufacturer's defect on your new GM and Chevrolet vehicle, you can feel free to call us at Guardian Lemon Law Lawyer at 888.341.8537.
How Long Do I Have to File My Lemon Car Claim?
The statute of limitations for a lemon car claim is 4 years, depending on the facts of your lemon car case.
What Are the Lemon Car Settlement Values?
The lemon car settlement values will always be specific to your claim. You cannot compare your lemon car case to another person's case, because your situations will be different each time. For example, if you have a claim for a Chevrolet lemon car, even if someone else has the exact same car with the same lemon car issues, your settlement values will be different based on your life experience losses and damages relate to the lemon claim. Having said that, many lemon claims will settle for $20,000 to $200,000, and your lemon claim will be likely to settle within that range of recovery.
How Long Will It Take to Settle My Lemon Car Claim?
It could take up to 3-6 months to settle your lemon car claim, depending on the extenuating circumstances related to your case. If you have already had your car reviewed by a car dealership, and know the full extent of your lemon car defects, then your case may not take very long to settle. Then, you have to add on your expenses, damages and losses and take away any other fees associated with the lemon claim, and this will determine your final values for the claim.
Is My Leased Car Eligible for a Lemon Car Claim?
Yes, your leased car, SUV, Crossover or truck is eligible for a lemon car claim. As long as the vehicle is still under the original car manufacturer's warranty, you will be able to make a claim for a leased car too. Your leased vehicle is being paid for by you, which means you are making payments on a car you have purchased. This makes the vehicle eligible for the California Lemon Laws, and your claim should be valid as well.
Zero Fee Guarantee
Our professional legal practice is here for you, when you have questions regarding a lemon car claim. We offer a zero-fee guarantee that you can use, when you give us a call today at Guardian Lemon Law Lawyer at 888.341.8537.
Contact Us / Free Case Evaluation for Your GM and Chevrolet Lemon Cars and Trucks
We are here every day to talk to you about initiating a lawsuit for your GM and Chevrolet lemon car claims. We are prepared to give you a free case evaluation for your GM and Chevrolet lemon car claim. You can talk to a lawyer with experience in the full settlement of lemon car cases.