What If I Can't Find the Problem and the Dealer Can't Fix the Issue, Can I Lemon My Car Then?
Yes, if the check engine light keeps coming onto your Ford Ranger, you may be able to lemon out your truck at that point. You cannot ride your truck with a check engine light that keeps highlighting in the vehicle. This is because a check engine light will alert and warn a driver that something seriously wrong is occurring directly in the engine compartment. Some issues that can trigger the check engine light include:
Issues with the catalytic converter
Oxygen sensor malfunctioning in the vehicle
Mass airflow sensor defects
Loosening fuel cap
Damaged and defective ignition coils
Damaged and defective fuel injector
Evaporative emissions purge control valve defects
Thermostat damages
Defective evaporative emissions purge solenoid
If you experience many different and ongoing defects with your vehicle, you can call us at Guardian Lemon Law Group at 888.341.8537 to review your lemon car claim for free.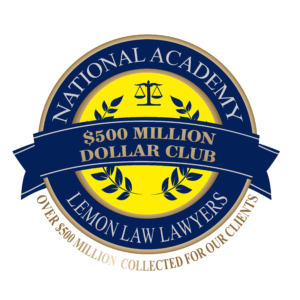 What Are My Rights Under the California Lemon Laws, Can I Get My Money Back on My Purchased or Leased Vehicle?
The California Lemon Laws will allow you to make a claim for your lemon vehicle, and it will review the manufacturer's warranty to ensure that you have a claim to be reimbursed for your car problems. If the car dealership is able to fix your vehicle to ameliorate the issue, it should be given a reasonable chance to do so. If the car dealership is unable to fix your defective vehicle, then a claim can be made to get a full refund using the California Lemon Law formulas for reimbursement of your money owed on your claim. The expenses you have and the mileage you have accrued will be some of the several factors that will be looked at, through the lens of the lemon laws. We will be here to help you during this process, and all that you need to do to start the road to a successful result, is to give us a call today.
What Do I Do If I Have a Ford Shake and Check Engine Light at the Same Time?
The Ford Shake is a problem that many Ford Motor cars experience, when they go up to normal highway speeds of 65-75 mph. The shake is felt in the wheel, steering column and the seats. The Ford Shake issue can affect the steering, wheels, seats and shake the whole body of the Ford Ranger while you are in normal driving mode. This can be a dangerous situation, and can cause a serious accident. The shaking can be caused by several problems relative to defects in the vehicle, including:
Uneven tire wear
Worn suspension components
Worn shock absorbers
Worn out ball joints
Bent and damaged wheels
Engine defects
Transmission defects
You will need to take your lemon Ford Ranger back to the car dealership, and the repair shop needs to go over your lemon truck top to bottom. For that reason, it is recommended that your lemon truck be seen by a qualified mechanic right away. If you have any problems talking to the car dealership, you can call us at the Guardian Lemon Law Group at 888.341.8537.
About Us
Our legal team has the knowledge regarding the California Lemon Laws, to help you to get a successful result for your lemon car claim. If you have questions regarding your lemon car claim that are not being answered by the car dealership where you are trying to get it repaired, you can call us for answers today at the Guardian Lemon Law Group. If the car dealership is giving you the Royal Runaround regarding your lemon vehicle, you can hang up the phone with them and give us a call right now. We will review your lemon vehicle claim for free, and help you to get the recovery compensation settlement that you deserve in this case.
Common Defects for Ford Rangers and Other Ford Vehicles with Manufacturer's Defects
We understand that you may have a faulty check engine light on your Ford Ranger, as well as other lights that do not work well on your car. You can have more than one manufacturer's defect on your vehicle, including:
Starters defective from manufacturer
Instrument panel clusters broken from factory
Oxygen sensors never worked
Has no power assist on steering
Won't turn unless the car is moving or going downhill
Turns too hard with little power steering
Instrument panel cluster cloudy and not working properly
Windshield wipers smear window
Power window motors uneven operation up and down
Brake hoses break prematurely
Steel tubes bent from factory
Instrument panel clusters go dim
Headlamps cloudy and dimming
Locks up on you when driving
Hangs itself up when driving
Inverters defective from factory
If you experience these common defects or a combination of other defects on your Ford Ranger, you can call us to review your claim with you today at Guardian Lemon Law Group at 888.341.8537.
Attorney Provisions
You do not need to make any attorney provisions for our legal team, when you start to work with us on your truck defective claim. Our payment fees will come out of the successful winning of your lawsuit, and you don't need to worry about putting any money down on your claim to work with us right now.
Model Years Affected Are 2012 to 2022 for Defective Ford Ranger Cars
If you have had a Ford Ranger that is between the years of 2012-2023, you may be affected by the defect of a faulty check engine light or its sensor. You can call us with your concerns, if your vehicle is still within the original manufacturer's warranty, then it is eligible for a lemon car claim.
How Long Do I Have to File My Lemon Car Claim?
The statute of limitations for a lemon car claim is 4 years, depending on the facts of your lemon car case.
What Are the Lemon Truck Settlement Values?
The lemon truck settlement claim will settle for the amount of reimbursement recovery compensation, that is reflective of your expenses, damages and losses related to the claim. If you have had a car accident with personal injuries, because of your defective engine, we will need to review your personal injuries and medical bills as well that are related to your claim.
How Long Will It Take to Settle My Lemon Car Claim?
It can take around 3-5 months to settle your lemon car claim.
Is My Leased Car Eligible for a Lemon Car Claim?
Yes, your leased car is eligible for a lemon car claim. All that you need to do is to call us and review your claim with us for free.
Zero Fee Guarantee
We offer a zero-fee guarantee, when you call us today at the Guardian Lemon Law Group. Our first priority is to help you to get your lemon truck claim off the ground, and on the way to being a successful claim that is settled with a recovery compensation check ready in your favor. But that will not happen, until you give us a call now at the Guardian Lemon Law Group at 888.341.8537.
Contact Us / Free Case Evaluation
You can contact us today at the Guardian Lemon Law Group at 888.341.8537. We are here when you need to talk to us, regarding initiating a lawsuit on the merits of your lemon truck claim.