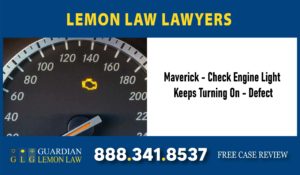 What Should I Do If I Can't Find Out Why My Maverick Has a Check Engine Light, and If the Dealer Can't Fix the Issue?
When the check engine light goes off on a vehicle, it is usually a cause for concern for a good reason. The engine has many "moving parts," and the check engine sensor is there to alert the driver that something seriously wrong is happening under the hood. There can be many different reasons as to why the check engine light goes off, and all of these reasons are typically dangerous scenarios for the driver. The driver will want to get the car safely off of the road as soon as practicable, and see that the vehicle is seen by a qualified mechanic as soon as possible. If the car dealership where you bought or leased the vehicle refuses to fix this problem, you can give us a call today at the Guardian Lemon Law Group. You need to have your car checked every single time that the check engine light goes off. If there is a malfunction in the light sensor for the engine, you still need to get this repaired. Because if you ever have a problem with the engine and ignore the light when there is a legitimate warning, your car can catch on fire or explode from the engine compartment. This will put you at a high risk of an accident or a fatality in that situation. If the dealers cannot fix a defective check engine light sensor, you may be entitled to a new vehicle, as this is a seriously problematic issue that the light is malfunctioning whenever you drive your Maverick car.
Can I Lemon My Maverick and What Are My Rights Under the California Lemon Laws?
Yes, your Maverick that has a check engine light that keeps going off may be "lemoned" under the California Lemon Laws. In general, the California Lemon Laws state that a car must be under the original manufacturer's warranty, in order for the owner of a purchased or leased car to recover compensation under these rules. If your vehicle is defective to the place that the check engine light keeps coming on, you will need to take the car back to the car dealership to get it checked out. Sometimes though, a car dealership will give you a hard time to bring your car back in to b seen by the dealership for lemon car repairs. If this is the case with the car dealership where you are having your car repaired, you can give us a call at the Guardian Lemon Law Group at 888.341.8537.
Can I Get My Money Back on My Defective Purchased or Leased Vehicle?
Yes, you can get your money back or a buy back from the auto manufacturer and the car dealership, if you have a defective vehicle that cannot be repaired. You have the right to own a new car that is fit for the purpose for driving it around when you need to use the car. When you bought your new car, you never expected it to be a dud, and have serious problems that would prevent it from being drivable safely on the roadways. By allowing you to use the California Lemon Laws to get your money back, this is the way that the lemon laws are protecting you from being taken advantage of by the car dealership who sold you the defective lemon car in the first instance. The lemon laws are there to protect consumers, and you will get the protection you need when you utilize the provisions in these lemon laws to get reimbursed for your defective vehicle.
Even Mavericks Can Have a Ford Shake Issue
Your Ford Maverick can have a Ford Shake issue, which means that the vehicle may shake and shudder while driving at normal highway speeds. Your Ford Maverick can start shaking when it gets to normal speeds on the byways, and this can create a dangerous situation for the driver and passengers in the vehicle. When a car starts to shake with the Ford Shakes, it literally feels as if the car is going to shake itself right apart. The tires start to tremble, the wheel shakes around and it can cause the driver to lose control of the car in those cases. If you have had the experience of a Ford vehicle shaking, then you know how serious this condition can be for you as the driver.
Your Ford Maverick may start shaking because of many different defective parts and components on the vehicle, such as:
Wheels not balanced on the vehicle
Worn suspension
Worn shock absorbers
Defective ball joints
Damaged and bent wheel frames
Transmission defects
Engine malfunctioning parts and components
You will want to take your Ford vehicle into a car dealership, to allow a qualified and certified mechanic to look over the vehicle and try to repair the check engine defects and Ford Shake issues.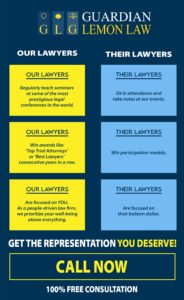 About Us
Our legal team is here to help you, in the event that you have a lemon Maverick vehicle. All that you need to do is to call us, and our legal team will review your claim for free. Just give us a call today!
Car Manufacturers Release Lemon Cars Every Day to the Buying Public
There are many different reasons why so many lemon vehicles are on the roads. The car manufacturers will continue to release lemon cars to the buying public, as long as the consumers buying these cars do not complain. If the car manufacturers were held more accountable and took their jobs seriously, they would be more responsible to not make lemon cars. If you have a lemon vehicle, you do not need to suffer through it in silence. You can call us at the Guardian Lemon Law Group at 888.341.8537, to get a free evaluation on your claim and get the recovery compensation that you deserve in this case.
Common Defects Found on Ford Vehicles That Are Lemon Cars
There are many different types of defects that can be found on a vehicle, and this list will keep growing when cars are released from the car dealerships with defects under the hood. You may have had more than one defect on your lemon car, such as:
Occupant safety systems stick or broken from factory
Power window switches broken from factory
Door assembly malfunctions
Hurts your shoulders to turn the wheel
Body sealing products missing from paint job
Electronic powered steering assemblies broken
Shock absorbers defective from factory
Fuel injection systems malfunction when driving
Interior trim products unevenly stitched
Seat assembly malfunctioning
Wheel assembly uneven and unbalanced
Bolts for wheels missing with risk of wheels coming off of vehicle
In the event that you have had many different types of defects with your Maverick vehicle, you can be experiencing frustration right now. We understand that you can have more than one defect going on at the same time with your Maverick. Just call us to review your claim at Guardian Lemon Law Group at 888.341.8537.
Attorney Provisions
You do not have to pay us any attorney provisions before we will start working for you on this claim. There is no money that you owe us up front, before we will initiate your claim for you.
Model Years Affected by the Maverick Check Engine Light
The model years affected by the Maverick check engine light are 2015 to 2022. If you have an issue with the check engine light or Ford shaking problems with your Maverick, you can call us today at the Guardian Lemon Law Group at 888.341.8537.
How Long Do I Have to File My Lemon Car Claim?
The statute of limitations for a lemon car claim is 4 years, depending on the facts of your lemon car case.
What Are the Lemon Car Settlement Values?
It will depend on the magnitude of your expenses, damages and losses as related to the claim, as to how much you will get back for your reimbursement settlement package. But you can expect that your claim will settle between $20,000 and $200,000.
How Long Will It Take to Settle My Lemon Car Claim?
It may take 2-5 months to settle out your lemon car claim.
Is My Leased Car Eligible for a Lemon Car Claim?
Yes, your leased car is eligible for a lemon car claim. You can call us today for any questions that you might have regarding the details of your leased car and how the California Lemon Laws apply to your claim.
Zero Fee Guarantee
You are welcome to call us today, to get in on the special which offers a zero-fee guarantee to you for your lemon car claim. You do not have to pay us any money up front, and we are here for you whenever you need us for your lemon car case.
Contact Us / Free Case Evaluation
You can call us today at the Guardian Lemon Law Group at 888.341.8537. We can review your claim and initiate a lawsuit on your behalf, to get you the reimbursement you need on your lemon Maverick vehicle. You can call us today for access to a lawyer with experience in managing and winning lemon car claims.