About Us
Our legal team is knowledgeable and ready to talk to you about your motorhome with manufacturer's defects. If you have bought a new Newmar motorhome that is unsafe and defective, you will want to get the RV repaired or replaced. But that may not be an easy task, if the motorhome manufacturer and the RV dealership is ignoring your calls right now. You have a right to have your pleas for help listened to, and that is why we are here for you. Your new motorhome should not come with defective parts, components or systems. If there are defects on the RV, it can make it unsafe to drive on the roadways. In that case, you could be risking your life, the lives of your family and the lives of the other drivers on the roadways. We are here to help you, and can discuss your claim with you today when you call us at Guardian Lemon Law Group at 888.341.8537 right now.
Newmar RV Manufacturer
The Newmar company is over 50 years old building motorhomes one at a time by hand in Nappanee, Indiana. They cater to luxury RV clientele with many of their motorhomes approaching one million dollars retail.
Models
Bay Star Sport
Super Star
Supreme Aire
Dutch Star
Ventana
Kountry Star
Canyon Star
Bay Star
King Aire
Essex
London Aire
Mountain Aire
New Aire
If you have bought any of these models of Newmar Corporation RVs and you have manufacturer's defects on your motorhome, you can call us today at Guardian Lemon Law Group at 888.341.8537 to review your case for free.
Steering Defects on a Motorhome Are a Serious Threat to the Driver, Passengers and Other Cars Sharing the Roadways
If you have just bought a new motorhome and it has a steering problem, you are seriously putting yourself and other drivers on the roads in danger of participating in an accident. The steering on a motorhome is considered a major component of the vehicle. The steering on an RV allows the steering wheel to turn as necessary to drive the motorhome. If there are issues with the steering, then the motorhome will not be safe to drive on the roads. A steering problem on a motorhome can affect several other components on the RV, including:
How the RV handles on the roads
Whether the RV will turn safely in traffic with other vehicles
How the wheels will turn on the RV
If the steering is tight and binding when engaged
Excessive wear and tear on the wheel bearings and bushings
Wear on the rack and pinion mountings
Gear box issues on the RV
Adjustable column latches not holding securely
Leaking from steering shock damper
Issues with center control arms
Tie rod problems
Cracks in the universal in gear box and steering column area
Any time that you experience steering manufacturer's defects in your motorhome, the driving will be less safe on the roadways. You can call us today to talk to our legal team about your concerns with a defective steering issue on your RV. Our legal team will help you to get the recovery compensation that you deserve in this case.
Common Defects on RVs Can Affect the Overall Drivability of the Motorhome
You might have experienced drivability issues with your RV, if you have had defective parts and components on your motorhome. You can bet that your RV is not as safe on the roadways, if you have problems with:
Cruise control
Cables
Broken dumping valves
Defective parking brake
Cabinets and drawers that fly open by themselves
Door locks
Keyless entry mode defective wiring and shorting of wires
Water leaks in turn signal indicators
Side cameras dim from leaks around camera
Ladders with retractable hinges welded improperly and break free of hinge
Propane gas tubes improperly connected to propane cylinder with defective fasteners
Spare wheels rub on brake lines causing unnatural wear and tear
Infotainment radio assembly improperly installed allows any DVD to operate with RV in motion on the roadways
Collision mitigation system installed upside down and cannot calibrate system to prevent an accident with other vehicles on the roadways
Throttle circuit connection twisted and non-functional properly in the RV
Front trusses installed wrongly
Wire harnesses and hydraulic lines installed improperly around framework structure
Electrical wiring improperly installed
Air bag cylinder
Heating system
Steering assembly
Universal joints
Propeller shafts
If you have had these defects plague your motorhome, you can call us at the Guardian Lemon Law Group at 888.341.8537, to review your lemon RV claim for free.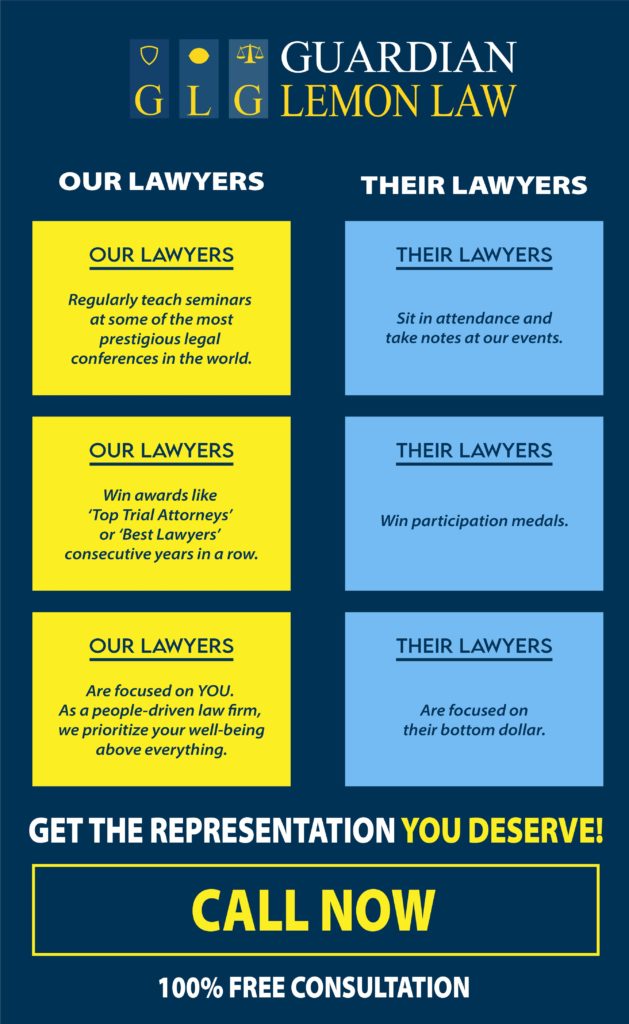 How Long Do I Have to File My Lemon Newmar RV Claim?
The statute of limitations for a lemon car claim is 4 years, depending on the facts of your lemon car case.
What Are the Lemon Newmar RV Settlement Values?
The lemon claim that you have against Newmar motorhomes manufacturer will settle most likely between $20,000 and $200,000. Your final settlement package will depend on your expenses, losses and damages related to your lemon motorhome claim.
How Long Will It Take to Settle My Lemon Newmar RV Claim?
It may take you 3-5 months to settle out your motorhome claim for a defective Newmar RV. The extent of the length of time to settle your claim will depend on the extent of your damages, losses and expenses.

Is My Leased RV Eligible for a Lemon Newmar RV Claim?
Yes, your leased Newmar RV is eligible for a lemon motorhome claim. But your RV may need to be under a certain amount of miles, to be able to recover compensation regarding your lemon motorhome claim.
Zero Fee Guarantee
We can give you a zero-fee guarantee, when you call us today at Guardian Lemon Law Group 888.341.8537.
Contact Us / Free Case Evaluation for Your Lemon Newmar RV Claim
A few months ago, you may have been at the end of your rope with your lemon motorhome claim. But now we are here, and we can get you the recovery compensation that you deserve on this RV claim. We can help you and are able to initiate a lawsuit on your behalf, with a lawyer with experience in the California Lemon Laws.