About Us
Our team of professional attorneys can help you, when your Renegade RV is defective. We know that it can be super disappointing if your new rig has defects, issues with components that never worked right, or other problems with a new RV. But take heart that we can help you, and we will once you give us a call at Guardian Lemon Law Group at 888.341.8537 to review your claim for free.
Renegade RV Manufacturer
The Renegade RV manufacturer sells motorhomes as a part of the REV Group, Inc., which is a leader in the motorhome industry and specialty markets. It is known to build busses, emergency and recreation vehicles for all stages of life, making everything from wheelchair accessible vans, luxury motorhomes, ambulances and commercial busses. The company also sells under a company umbrella, with other brands such as:
Renegade Models
Vienna
Veracruz
Valencia
Verona
Verona LE
Explorer
Ikon
XL
Classic
Villagio
Explorer
"Help, Should I Photograph the Defects on my Renegade RV for the Motorhome Dealership?"
Yes, you should take a photograph of any visual defects on your Renegade RV, before you take it to the motorhome dealership or manufacturer. Understand that the repairs to your motorhome need to come from the manufacturer or the RV dealership. If you take your RV to someone else, you will have to pay out of pocket, and you may void your warranty. Additionally, if your RV is repaired at a different place where it was purchased, you may not have an expert working "under the hood." Your photographs of any defects are proof of the manufacturer's defect that you experience. You should never crawl around underneath your motorhome, or otherwise put yourself in any physical danger, just to take a photo of a defect. Unless you are a certified mechanic for motorhomes from your specific dealership, and even then, you should not:
Crawl under the motorhome to get the perfect photo of the damage and defects
Lift up the "hood" to get a closer look at the engine
Start taking things apart in your motorhome to find more defects
Troubleshoot when you are unsure of whether you have a defect or not
Let your friends troubleshoot on your RV, since "they had the same problem last year"
Take your motorhome to different mechanics to try to "get to the bottom of things"
If you have experienced a defect on your Renegade motorhome, you can call us to review your claim for free regarding your lemon motorhome.
Common Defects on RVs That Can Cause a Serious Accidents on the Highways
Any type of defect on an RV can cause a serious accident on the roadways. That is because some defects seem small, but a motorhome is a large and heavy vehicle, whereby everything is magnified ten-fold when there is an issue, problem or concern. You may have had problems with your motorhome's components related to:
Batteries
Breakers
Converters
Switches
Monitor panels
Propane detector
Smoke detector
Inverter operations
Furnace
Range
HVAC
Potable water intake
Pumps
Slide outs
If this sounds like what you just went through on your RV, you can call us to talk about your lemon motorhome claim at Guardian Lemon Law Group at 888.341.8537.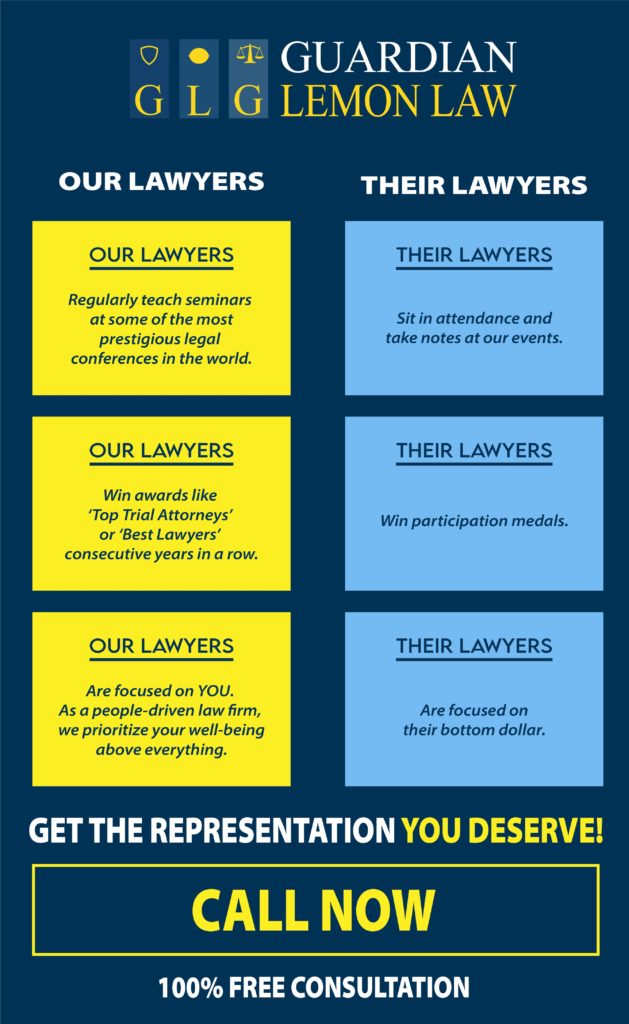 Multiple Motorhome Defects Will Do More Than Just Ruin Your Road Trip
If your RV has multiple defects, it is going to do a lot more than just ruin your road trip. There may be many systems and components on the motorhome that will not work properly, which can cause issues with the RV over the short and long term. It is not unusual to experience several defects on a motorhome, and this can cause all types of problems for you as the motorhome owner. If your RV is overall defective, then you can expect to have issues with defects related to the motorhome:
Power cords
Sewer hose
Tires
Defective awning that won't retract
Fresh water hose
Slide room defects
HVAC defects
Broken levers to level the RV on unstable ground
Roof vents and windows
Cables
Broken dumping valves
Defective parking brake
Cabinets and drawers that fly open by themselves
Door locks
Door jams
Unless you are an RV mechanic, and even if you are one, you may not have expected to have to crawl around under your new motorhome, when you take it out for your planned road trips. In any case, you may have drivability and major safety issues that will be related to driving your motorhome on the open roads. You can expect that if you have one defect, it will be related to another defect, and so on, until your new motorhome is so full of defects that you will wonder how you are going to drive it anywhere right now. If this is the case for you, just take a deep breath, and call us now at Guardian Lemon Law Group at 888.341.8537.
How Long Do I Have to File My Lemon Renegade RV Claim?
The statute of limitations for a lemon car claim is 4 years, depending on the facts of your lemon car case.
What Are the Lemon Renegade RV Settlement Values?
The settlement values are directly proportionate to the claim.
How Long Will It Take to Settle My Lemon Renegade RV Claim?
You can expect to settle your lemon Renegade RV claim within 3-5 months, depending on the losses, damages and expenses you have related to the claim.
Is My Leased Renegade RV Eligible for a Lemon RV Claim?
Yes, your leased Renegade RV is eligible for a lemon motorhome claim. We are expecting that your miles driven to date are still going to be under the original manufacturer's warranty. If you have any questions regarding the warranty and the application of the California Lemon Laws, we can answer those inquiries when you call us at Guardian Lemon Law Group at 888.341.8537.
Zero Fee Guarantee
We are ready to give you a zero-fee guarantee today and every day, when you call us now at Guardian Lemon Law Group at 888.341.8537.
Contact Us / Free Case Evaluation for Your Lemon Renegade RV Claim
Call us today, in order that we can review a free case evaluation for your lemon Renegade RV claim and lawsuit. We will put you in touch with a lawyer with experience in settling out lemon motorhome claims, and we are committed to getting you the full value of your case. Just call us now at the Guardian Lemon Law Group at 888.341.8537.